The City's Newest Gastronomic Attraction.

Guernica's Tapas Bar & Restaurant
We create the right blend of ingredients for a perfect Spanish dining experience: divine Spanish food, finest wine, intimate ambience, reasonable costs and exceptional service.
Driven by the desire to illuminate the Spanish culture and cuisine in the Philippines, we strive to satisfy every guest's Spanish fantasy through our fascinating menu of Spanish delicacies and wine selections.
If you're craving for something light, you can munch on our palatable Calamares Fritos (Fried Squid), Gambas al Ajillo (Shrimp in Garlic), Ostras (Baked Oysters) and other tapas specialties.
If you're in a festive mood, our hearty dishes such as Paella a la Valenciana, Pollo Estillo "Guernica" (Deep Fried Chicken with a mixture of Pommery Mustard, Marjoram, Rosemary, Tarragon, Thyme, Corriander Herbs) and Lengua Estofado (Tender braised Ox-tongue, flavored with Sherry and Red Wine) will surely satisfy your appetite.
Our impressive wine selection complements this array of especialidades. Our bar serves specialty cocktails as well as Sangria, bottled beers and an impressive selection of Spanish wines. Each sip sends our guests' spirits soaring high as they share plates and stories with one another.
Our interplay of rhythm, lights, flavors and aromas leaves our guests pleased, satisfied and raving for more Spanish delights!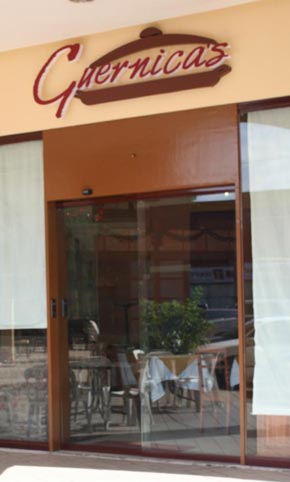 The Guernica's Story

A delectable tale to tell.
The vision of the late Señor Hermachea birthed the famous Spanish restaurant we've grown to love until today.
In 1955, Señor Hermachea and his wife Vera Kogan established the first Guernica's restaurant in the skirts of M.H del Pilar. Guernica's derives its name from Señor Hermachea's beloved hometown where he grew up as a jai alai player: the Basque town of Guernica, a historical spot in Spain which became the subject of a famous anti-war painting of Pablo Picasso.
As the first Spanish restaurant in the Philippines, Guernica's attracted visitors through an array of delightful offerings: sumptuous dishes, special wine selections and a charming folk singing trio entertaining guests with soothing Spanish rhythm.
In 1973, Senor Hermachea's retirement paved the way for a new management led by Mr. Romeo Bauzon, an antique collector married to Ms. Inge Horn of Ulm of Germany. Despite his self-confessed lack of knowledge, Mr. Bauzon was determined to take on the challenge and transform the venture into a success. To continue the tradition in Spanish cooking, Senor Hermachea shared all his secret recipes to the new management.
Guernica's success led the couple to open Patio Guernica, the only first-class eatery present in Malate during the 70's. With its fine cuisine and excellent service, Patio Guernica earned the loyalty of regular clients who frequented the place almost nightly. After several years, the Guernica's enterprise would be passed on to the rightful heir, Anthony Bauzon. Stepping up to the challenge is the son who turned his parent's business to success. With sheer perseverance and hardwork, Anthony ensured that the third generation of Guernica's Restaurant at the 2nd floor of SM Mall of Asia Entertainment hall became a hit among food lovers and mall goers. With this type of admirable success over the years, what shall we expect next from the famous Spanish restaurant?
Now in partnership with Engr. Bernard H. Morillo, the founder of PEMCOR Group of Companies, Anthony Bauzon envisions a gastronomic innovation with the twist: the fusion of rustic charm and modern ambience; the blend of Spanish flavors and distinct Filipino delicacies. Located at Santana Grove, Dr. A. Santos Ave., Sucat, Paranaque City, Guernica's Tapas Bar and Restaurant, now the fourth generation of the Guernica's restaurants, is expected to retain its old tradition of Authentic Spanish Cuisine and fine dining service which started more than five decades ago.
Behold the new restaurant that seeks to engage the senses and captivate the palates of the urban young, modern crowd of the metro… Guernica's Tapas Bar and Restaurant.